Quick Steps to find your version of MSE / Windows Defender:
1 Open the program's main window.
2 Click on the Help menu (top right corner).
3 Choose "About".
4 The number next to "Antimalware Client" is your version.
5 The other version numbers are for the program's sub-modules.
What version of Microsoft Security Essentials am I running?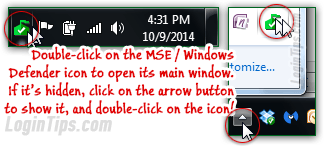 Double-click on the MSE icon in the notification area of the taskbar (system tray). If you don't see it, click on the arrow button to reveal the hidden icons. (Note: you can configure Windows to always show the MSE icon.)

Once the MSE window opens, click on the Help menu in the top right corner, and choose About.
The "About" dialog will open, and display various version information: the first number, shown next to "Antimalware Client Version", is the version of MSE you currently have installed on your computer. All the other versions apply to various components of the antivirus software, like your virus and anti-spyware definition files, etc. As of this writing (fall 2014), the current MSE version is 4.6:

MSE versions since 2009
Except for MSE 4.5+ (current), all versions are available for Windows XP, Vista, and Windows 7.
Version 1.0 was released in September 2009. That summer, Microsoft had released a free beta to select countries (and multiple languages). Unlike the current version, MSE 1 included icons on each of its tabs, and a green / orange / red gradient for the info bar at the top (it is now a flat, solid color).

Version 2.0, released a year later, update its malware detection engine to future-proof MSE: with what is known as "heuristic analysis", Microsoft no longer relies so heavily on patterns of existing viruses and malware, using instead an engine that tries to predict future viruses by looking at the structure of files and programs. It also introduced the Network Inspection System Engine, a built-in tool that monitors activity on your local area network ("LAN") for hacker intrusions and/or suspicious traffic patterns. And version 2 includes a minor cosmetic change, with the tabs now showing in medium gray:

Version 3.0 was never released, and version 4.0 debuted in 2012. The current version, Security Essentials version 4.5, is available for Windows Vista and Windows 7, but not Windows XP, whose extended support phase expired in April 2014. Any computer running version 4 will still have access to virus definition file updates until April 2015. All these versions, including Windows Defender, share the same look and feel - and this is, hopefully, what the version of MSE installed on your PC looks like:

What about version 5? Now that Microsoft includes Windows Defender in its OS, MSE 4.5 may be the last version (MSE 4.6 is just an incremental update, like MSE 4.7 would be, if ever released.)
Check which version of Windows Defender you have

For Windows 8 and later (Windows 8.1, Windows 10, upcoming Windows Server , etc.), MSE is no longer available as a download: instead, the operating system comes with Windows Defender built right in. This means that your antivirus software itself (aside from virus definition files) gets automatically updated through Windows Updates, regardless of Windows Updates settings - unlike Windows 7 and earlier. To launch Windows Defender, hold down the

key and hit F (as in "Find"). Make sure that Everything is selected, type "defender", and hit Enter.
Likewise, when the program window opens, click on the Help menu and choose "About". You'll notice that Microsoft follows the same nomenclature and version system. Here too, the number that follows "Antimalware Client Version" is your Windows Defender version number:

Make sure that you automatically get new versions of MSE
Since Windows XP is no longer supported, the following only applies to Windows Vista and Windows 7. Depending on when you first installed your version of Windows, and the default security settings you chose, you might be already setup to get notified when new versions of Microsoft software are available for download (this includes "non-Windows" software, like MSE or Windows Live Mail).
Open the start menu and click on "Control Panel"; then, type "update" in the search field (top right corner), and click on the "Turn automatic updating on or off" link:

On the next screen, make sure that the "Give me updates for Microsoft products and check for new optional Microsoft software when I update Windows" checkbox is checked. This will control not just Microsoft Security Essentials, but any other Microsoft not part of Windows, like products part of the Windows Live Essentials suite. click on the OK button to save your new settings:

Donate, speak out, or read more!