Login Tips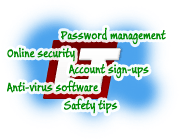 Welcome to Login Tips! An ever-growing online resource of tutorials to sign in to popular websites on the web - from webmail providers (Google's Gmail, Microsoft Hotmail / Outlook.com, Yahoo Mail, AOL Mail, etc.), web apps, banking institutions and financial sites, plus generic online safety tips to keep your accounts secure and protect them from hackers - starting with best-practice behaviors when you connect from a public computer, to learning how to pick safe, but easy-to-remember, passwords!
Login Tutorials: Facebook, Yahoo, Hotmail, AOL
| | |
| --- | --- |
| One of the oldest online companies, AOL has expanded its offerings beyond dial-up internet access to provide one of the most sophisticated webmail clients around. AOL Mail is free, and available to members and non-members alike. Get started: login to AOL, or create an AOL account. | From MSN, Hotmail, Windows Live, to Outlook.com, Microsoft has been providing free email addresses to the world since the late nineties. With Windows 8, this Microsoft Account becomes central to the experience! Get started: sign in to Hotmail, or create a Hotmail account. |
| | |
| Less than 10 years old, Facebook is now the world's most popular social networking website, with nearly 20% of Earth's entire population using it! Get on it, find new friends, and create new professional connections. Get started: login to Facebook, or create a Facebook account. | The oldest mega company on the internet has kept re-inventing itself, and remains to this day of one the top online destinations in the world. And its free email service, Yahoo Mail, remains one of the most popular ones! Get started: login to Yahoo, or create a Yahoo account. |
Quick Login Tutorial

At its core, the login process is quite simple: because web servers do not know who you are, they have to be able "authenticate" you and other existing users - that's done by verifying the information you supplied when you first signed up for an account with that provider.

The login verification is generally done through a database, which typically contains your name, email address (often also your username, since every email address is unique!), and a password.

When you enter your username and password into a sign-in form and hit Enter, your web browser sends that information to the web server: if the web server finds matching credentials in the database, it logs you into the system; otherwise, it gives you some kind of error message, often including a "sign up" link for new users.

That's why it's important to have a "secure connection" for all login forms: without the padlock icon in your browser's address bar, credentials are sent unencrypted over the internet, making it easier for hackers to read intercepted information. If the form is secure (HTTPS), your login is sent scrambled!
Online Security Primer

Much of the security of your accounts on the web depend on decisions under your control - from picking a safe password to begin with, to the browser you are using, and your operating system auto-update settings. In addition to tutorials explaining how to access your online accounts, we'll show you how to configure your computers (Mac or PC) to keep your information safe. Start learning with our Windows 7 Tutorial.

For now, know that you should always run a firewall (built-in since Windows XP SP2), and an up-to-date antivirus software - one is included with Windows 8 / 8.1 (called "Windows Defender"). It is the same program as "Microsoft Security Essentials" (MSE), a free download available for Windows 7 / Vista, and XP. Get started with our MSE / Windows Defender Tutorial!
If you only remember "one" thing from this entire website, here are 5 internet security tips:
• Use a different password for each online account and service.
• Create secure passwords by mixing upper- and lower-case letters, numbers, and symbols.
• Avoid signing into online accounts from public computers or unfamiliar locations.
• Never share your password or account information, even if the request seems legitimate!
• Run a fully patched operating system with up-to-date antivirus software at all times.






© 2016
Login Tips
, All Rights Reserved -
About
|
Feedback
|
Disclaimer
|
Sitemap